Super League
Razman praises Adam Nor Azlin, Mineiro switches focus to next game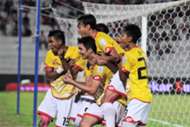 ---
BY         NIK AFIQ        Follow on Twitter
---
Selangor skipper, Razman Roslan admitted that their 2-0 away win over Kelantan was not easy, and believed the team did well to collect the three points.
Speaking after the game in an interview with the match broadcaster, Razman believed the three points are important for the team, and he also praised Adam Nor Azlin, who replaced the injured Forkey Doe in the first half.
"For me, every player gave their 100% commitment. We knew it won't be easy going up against Kelantan and the three points we collected are really important to us."
"Every player who got the chance to play will give their best and for me, Adam gave more than 100% and really helped the team tonight."
For Selangor's hero Juliano Mineiro who scored both of the Red Giants' goals in the match, despite being elated with the brace, the Brazilian is already looking forward to the next game and is determined to play better.
"I am very happy that we scored, but what's important is that we worked hard as a team. Now our focus is on the next game and we will improve from game to game."
"I must improve in every game. I've been here for a month and I must improve every time I play and I hope the coaches like that," explained Mineiro.
The Brazilian also explained that he is getting along well with Victor Astafei, describing the player as an intelligent football player.
Mineiro scored a brace on a night to forget for Kelantan fans, with the three points collected by the visitors putting them third in the table.
The Red Giants have a tough task awaiting them next. This Tuesday they will host league leaders Kedah in matchday seven of the league.