Manchester United
'Rashford wanted to be like Pirlo' - Man Utd forward now urged to be next Van Nistelrooy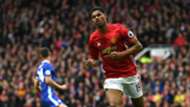 Marcus Rashford may be an exciting striking option at Manchester United, but former youth coach Paul McGuinness has revealed that he once "wanted to play like Pirlo".
A product of the Red Devils' academy system, the 19-year-old started out as a playmaking midfielder.
Seeing himself as a creative influence in the mould of Juventus and Milan legend Andrea Pirlo, Rashford would often look to get involved in proceedings as much as possible and dictate the play.
WATCH: Pogba enjoys 'nutmeg season'
United, though, saw greater potential in the youngster as a fleet-footed forward and quickly sought to nudge him in a different direction.
McGuinness told the Manchester Evening News: "We decided, myself, Warren Joyce and Colin Little, that he was a very good footballer. He could be a No.10, a winger, beat people, he used to drop off into midfield.
"There was one tournament where he wanted to play like Pirlo. But we saw his potential to be a striker.
"We worked on his body shape, different runs. He's a really, really intelligent lad in terms of football. He picked it up very quickly."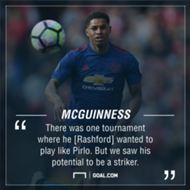 Having burst onto the scene at Old Trafford with a flurry of goals under Louis van Gaal, Rashford found the going a little tougher in 2016-17 under Jose Mourinho – despite seeing plenty of game time.
He is now being urged to work on becoming a more predatory frontman, with United eager to see him follow in the footsteps of an iconic figure from the not too distant past.
McGuinness added: "Marcus can score all sorts of goals, but to be a goal-scorer you need more of the Ruud van Nistelrooy type of goals.
Ibrahimovic move to LA leaked?
"If it hit the goalkeeper - there was Ruud. If it hit the bar, post, deflected - he was there.
"Marcus has got a bigger range, but he needs more of those."
Rashford netted 11 times in 53 appearances for United across all competitions in 2016-17.