Super League
PKNS to stay in Super League next season, with one important change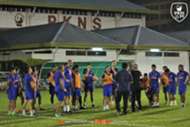 ---
BY        ZULHILMI ZAINAL       Follow on Twitter
---
Two separate sources close to PKNS FC have confirmed to Goal in the past month that the Super League club will stay in Malaysia's top tier in 2019.
The Red Ants' future has been a subject of speculation over the last few months, due to the thawing relationship between the Selangor state government and the other Selangor-based Super League team, Selangor FA (FAS).
When FAS broke free from the state's influence at the end of 2016, PKNS enjoyed the sole attention of the state government, at least until the northern-Selangor based Selangor United began competing in the FAM Cup, Malaysia's third tier in 2018.
However, things are starting to get a little too crowded for prefessional football in the state, after a change in FAS administration in mid 2018 brought the Red Giants back under the state's umbrella, while United managed to secure promotion to the second tier next season, necessitating a bigger budget.
Fans have started questioning, perhaps a little unfairly, the club's insistence on competing as a professional club despite not being able to draw a sizeable crowd, while suggesting that the club be withdrawn so the state funds can be channelled solely to FAS.
Another suggestion that has been mooted is for the club to once again play a feeder club role to FAS, but this time officially, in the second tier.
However, two separate sources close to the club have told Goal that they will remain in the top tier next season.
And for that to happen, they will resort to reducing their budget, mainly by slashing their wage bill.
"It's not a problem for PKNS. It has operated with limited budgets before, and they'll do it once again," the first source told Goal last month.
"They have convinced several of our players to take a wage cut next season, while the star players are still in discussions," the second told us weeks later.
While clubs in Selangor may need to budget their spendings more wisely next season, changes in the country's political scene back in May have caused ripples throughout club football in the country as well.
Over the past few months, a number of clubs have failed to pay their staff and players' wages, providing further validity to calls to halt ballooning wage bills and dependence on state-funding.
Also follow Goal Malaysia 's Instagram account!