Premier League
Guardiola: Calm down, Poch, Man City don't want Alli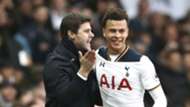 Pep Guardiola has assured Tottenham boss Mauricio Pochettino that he will not try to sign Dele Alli this summer.
What it takes to be a Man City kid
Former Barcelona midfielder Xavi is said to have claimed earlier this week that Guardiola admires Alli as a player and that City have the resources to sign him - though he now disputes that he gave the interview in the first place.
Pochettino, however, reacted during his press conference on Tuesday, insisting Xavi was his "enemy" and suggesting that he is working for City and Guardiola.
But the City boss has moved to calm the storm. The Catalan has made his admiration for Spurs' English players clear on several occasions this season, and Goal understands he enquired about both Danny Rose and Kyle Walker last summer, and is indeed interested in Alli.
Spurs, however, would want a world-record fee for the PFA Young Player of the Year, and Guardiola says a move is not going to happen.
"Mauricio Pochettino has to stay calm," he told Sky Sports. "Dele Alli will be his player next season. I am pretty sure about that. We don't want him.
"He is a fantastic player, good, new, English footballer. He's a fighter. He's good. He's someone who attacks the box and is one of the most fantastic players I have ever seen in my life.
"But Manchester City doesn't want Dele Alli."