Serie A
Parma get Serie A points deduction and striker Calaio banned for match-fixing attempt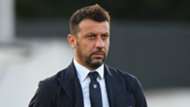 Parma will start the 2018-19 Serie A season with a five-point deduction as a result of Emanuele Calaio - who has received a two-year ban - sending "suspicious" messages to Spezia players last term.
The Italian Football Federation (FIGC) had been investigating texts sent by Calaio – who used to play for Spezia – to former team-mates Filippo De Col and Claudio Terzi ahead of the Serie B fixture between the teams at the end of the 2017-18 season.
In the FIGC's case document, which names both De Col and Terzi, it accuses Calaio of "trying to get less competition commitment from the players of Spezia".
Parma won 2-0 to secure a third successive promotion, though media reports suggested they were in danger of having two points from that match voided, subsequently seeing them drop back into the second tier.
However, FIGC have instead punished them for the coming season, while Calaio has been hit with both a lengthy ban and also a €20,000 fine.
The FIGC statement read: "The National Federal Tribunal [TFN], presided by Mario Antonio Scino, has given Parma a penalty of -5 points for the upcoming season in Serie A 2018-19 and a 2 year ban – on top of €20,000 – to the footballer Emanuele Calaio, regarding him being sued by the Federal prosecution for the suspicious text he sent before Spezia v Parma.
"Therefore – as for the TFN's issue – given the principles communicated earlier, this Tribunal believe proven that Calaio, by sending those texts to his former team-mate De Col, tried to fix the game as per article 7.1, deeming irrelevant that he could have spoken only about his own safety. Unfortunately, even if you invite rivals to avoid tackles for your own safety, this can mean an attempt to alter the game."