Mexico
Osorio apologizes for outburst at New Zealand assistant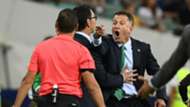 Mexico coach Juan Carlos Osorio said he lost control during Wednesday's Confederations Cup match against New Zealand, and said he is sorry his shouts of anger at the All Whites' bench were heard on the television broadcast.
El Tri survive despite misguided rotations
El Tri defender Carlos Salcedo went down in his own penalty area in the 27th minute with what eventually would be diagnosed as a dislocated shoulder, but play continued with neither the referee blowing the play dead nor New Zealand stopping their attack. Once play did stop, Osorio expressed his frustration to New Zealand's bench and clarified after the game that his shout of, "You! F***ing bald-headed motherf*****" was intended for the ears of a bald New Zealand assistant coach.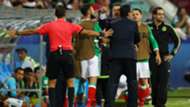 "First of all, I want to take this chance to offer an apology to all the TV viewers, evidently I got out hand, specifically toward one of their assistants, one of them who doesn't have hair," Osorio said in his post-match news conference. "We always respect that they have a very direct idea of playing soccer, a style with a lot of contact but when this passes the limit and becomes an abuse of Fair Play that's where I reach my limit of accepting things."
Osorio said the coach, who it appears was New Zealand assistant Alex Armstrong, had been "bothering me in Spanish. The camera followed me, but he started everything."
The play on the field stayed tense, with a shoving match breaking out between players on both sides, though, even after going to VAR, referee Bakary Gassama declined to send off any of the players involved.
New Zealand boss Anthony Hudson described Osorio's reaction as "bizarre" and did not want to dwell on the unsavory scenes after his players performed at a level far above their FIFA world ranking of 95th.
Aquino the difference-maker for El Tri
"I don't want to sit here and talk about the negative things that were happening," he said. "These things are all part of the game. I'd rather talk about how my team performed and really a performance that I guarantee no one at this tournament expected.
"All the media talked about our team as having zero chance in this game, all of the media. I'd rather talk about how much of a big performance it was from every player, subs coming off the bench included."
Hudson added: "The next step for us is to turn these big performances into results. We were very close I want us to feel that disappointment because we need to use that to make sure we keep improving."
El Tri's 2-1 win means Mexico will move into the semifinals of the tournament with a draw against Russia, while New Zealand was eliminated by Wednesday's result.