Manchester United
One year on: Juan Mata's Common Goal celebrates anniversary with £615k raised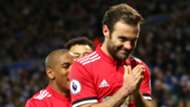 Juan Mata's Common Goal initiative has celebrated its one-year anniversary, with close to £615,000 raised so far.
The Manchester United star opened the charitable project on August 4, 2017.
Over the course of the last 12 months, 57 fellow contributors have joined him in pledging to donate one per cent of their salary to good causes.
Mata is looking to help underprivileged people around the world, with the likes of Kasper Schmeichel, Matts Hummels and Giorgio Chiellini among those to have been brought on board.
The project has generated almost £615,000 in total, with £385,000 having been invested into 27 grassroots football projects across the globe.
Some £85,000 was raised for football organisations during the 2018 World Cup, with Common Goal working with WeWork and Facebook to tackle issues such as gender equality, social inclusion and access to education.
The cause has also welcomed its first professional club onto its books, with Danish side FC Nordsjaelland signing up.
Their pledge has seen them gift one per cent of their gate receipts for a Europa League qualifying fixture.
Squad members of Nordsjaelland, from the U12 side to the senior ranks, will be looking to raise funds throughout the coming season for Common Goal.
Club chairman Tom Vernon said about the initiative: "We believe that it is a club's responsibility to offer a holistic education to players and Common Goal is the best tool available.
"It's vital that players are made aware of the world around them and the potential they have to unleash football's power for good."
More football clubs are expected to follow suit, while Mata and Co continue to open themselves up to other sporting personalities joining their project.
After reaching a first birthday in positive shape, there is the promise of plenty more to come from Common Goal over the coming years.