KPL
On form Boniface Muchiri sets high target with Tusker as KPL season draws to an end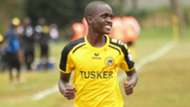 Boniface Muchiri is hopeful that his new-found form at the tail end of the season will help Tusker finish at a respectable position. 
The former Sony Sugar midfielder, who joined Tusker in June 2017, has so far scored eight league goals, six better than his 2017 achievement with the Brewers. 
Muchiri put a smile on the face of Robert Matano with a 25-yard volley to hand the Brewers a hard fought 1-0 victory against Zoo on Sunday, a performance that was applauded by his boss as the talented forward continues to break the barriers at Ruaraka.
"My target is to score as many goals as possible so long as I get a chance."
The goal against Zoo took to three Muchiri's goals in three league matches, having hit a brace against Homeboyz.  The performance comes against the backdrop of a one-match suspension that saw him miss a home game against Bandari.
Muchiri believes the performance he put up was down to Matano, who entrusted him with a chance straight into the starting squad even after missing the previous game.
"Am just grateful for the opportunity and the hard work we've put together as a team and as an individual, I know everyone has a target so it's just a matter of working hard.
"I am enjoying football at the moment. I can do anything with the ball and my teammates also give me the support, the technical bench; everyone has given me the support I need. There's no way that one can be the best without team work. My teammates are part of my progress," Muchiri told Tuskerfc.co.ke.
Muchiri has also hit the back of the twice in the FKF Shield, taking his season's tally to 10 goals.