Africa Cup of Nations Qualification
Omar Al-Maryami attributes Libya defeat to ill-luck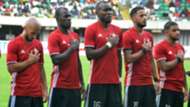 Omar Al-Maryami has blamed ill-luck for Libya's 4-0 loss to Nigeria in Saturday's Africa Cup of Nations qualifier in Uyo.
Odion Ighalo's treble lifted the Super Eagles to the second spot with six points from three matches while the Libyan fell to the third spot with four points.
But Al-Maryami who replaced Adel Amrouche few days before the encounter stressed that the result would have been different had they played under a more favourable weather and also converted some chances they created.
"We played very well and we were very courageous but I observe that small issues that we did not have control over affected our team's performance like the temperature and the humidity and the issues that we faced all culminated in our loss," Al-Maryami told media.
"However, we came to Nigeria to claim the three points the manner of the defeat does not make any difference to us because we still lost the entire points. We will go back home with the conviction that we could also beat the Eagles in Tunisia during the return leg. I take full responsibility for the result and I hope to rectify the result in the return leg.
"Obviously Nigeria have a rich footballing history in Africa. What we needed to do was to come here and play with confidence. I am very proud of the way my boys performed and I don't think that they did anything wrong but that they were just unlucky to lose."