Liverpool
Old habits die hard for Liverpool as defensive gremlins resurface at Arsenal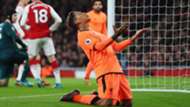 For 52 minutes, Arsenal hadn't troubled a commanding but charitable Liverpool enough to land a shot on target. And then, in 388 seconds, they connected with an uppercut, an overhand and a hook.
Jurgen Klopp's men were 2-0 up courtesy of Philippe Coutinho and Mohamed Salah, but they didn't allow the celebrations for the Egypt international's 21st goal of the season to marinate.
Instead, a minute later, they removed the good-defending mask they've been wearing - only conceding two penalties in their last 6 games - to morph back into Individual Errors FC.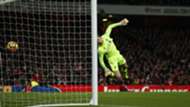 Joe Gomez switched off at the back post, allowing Alexis Sanchez to head in, before Simon Mignolet, fully aware of Granit Xhaka's threat from distance, failed to deal with a 30-yard effort that was straight at him.
A poor Ragnar Klavan pass and an Andy Robertson giveaway were followed by more mediocrity from the goalkeeper as Mesut Ozil dinked over him from close range.
Roberto Firmino levelled matters with Petr Cech only able to push his left-footed strike backwards and into the net, but how Liverpool found themselves having to rescue a game they could have comfortably killed off in the first-half will rattle Klopp and, understandably, supporters too.
This is not a one-off and while it is not a consistent problem, it happens with way too much regularity for a side with such lofty ambitions.
James Milner, rightly, referred to being in control of a big match only to have heads bowed at the final whistle as a "theme": the collapse in Sevilla last month, the Merseyside derby in this one and now the ridiculous scenes at the Emirates.
"We've got to see the game out," the vice-captain said on Sky Sports afterwards. "We've got to become more boring. All the goals were our fault. We need to sense when it's time to keep the ball more, to tighten things up."
The defence is not solely to blame for Liverpool's failure to solidify their position in the top four and put further space between themselves at Arsenal.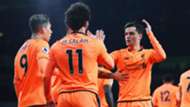 Coutinho should not have remained the only name on the scoresheet for the Merseysiders in the first 45, with Firmino, Salah and Sadio Mane all having the platform to further inflict misery on the muddled hosts.
Liverpool's unnecessary charity in the first half offered Arsene Wenger's side respite they hadn't deserved. 
"In the first half, we were paralyzed, frozen. We were completely inhibited," the Frenchman conceded. "We played too deep. It was good, though, because we were only 1-0 down at half-time. We had nothing to lose in the second half, why not go for it?"
That Klopp's charges presented Arsenal with that possibility was unacceptable. That they combusted so heavily in five minutes was deplorable.
As long as Liverpool continue to conspire against themselves, failing to cut out the errors and those who keep committing them, they will remain good to watch, but without anything truly great to show for it.