Opinion
NPFL: Will inadequate planning on the road again be exposed in Africa?
---
COMMENT    By Solace Chukwu    

Follow on Twitter
---
Heading into the First Round of the Caf Champions League and Caf Confederation Cup, Nigerian representation on the continent has been whittled down to just two teams.
Wikki Tourists and FC Ifeanyi Ubah were both eliminated from the Confederation Cup in the Preliminary Round, and while both Enugu Rangers and Rivers United came through their ties (in entirely contrasting fashions), they will have to go through Zamalek – last year's beaten finalist – and Sudan's Al Merrikh respectively in order to progress to the group stage of the Champions League.
FCIU's elimination at the hands of Egyptian giants Al Masry betrayed a peculiar naivety, one that is shared by a number of Nigerian clubs: the inability to master an away tie.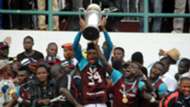 Granted, their exit was on penalties, but it would be disingenuous to suggest, as some might be wont to, that it was down to luck. In any case, the Nnewi side failed to convert any of their three kicks – two saved to the kicker's natural side and one blazed over. That is not a bad rub.
There is no given way to win on the road, of course. The reason leagues are played in this format is to ensure that comparative advantages even out; as such, insofar as some basic standards are adhered, the home team is permitted to skew the circumstances in its favour. This includes the use of such things as flares, whistles and laser pointers for the purpose of intimidation and distraction, all of which are in common use especially in North Africa.
It does behove the visiting team to prepare for expected challenges and make contingencies. The point of training and preparation extends beyond keeping players limber; the element of chance must be beaten down to insignificance, and randomness contained as much as possible. Argentine manager Marcelo Bielsa is known to flood training pitches when there is a forecast of rain—manic it may seem, but it is this sort of attention to simple detail that Nigerian teams have yet to embrace.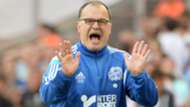 FCIU goalkeeper Ikechukwu Ezenwa was mercilessly targeted by laser pointers, but his preparation for the game was under ideal conditions; the Nigeria international was consequently uncertain under crosses. Can the coaching crew honestly claim they put him in the best position to succeed?
There was also a variable which, unlike lasers, Nigerian league players are more familiar with: dodgy officiating. It was inconsistent at the best of times in Egypt, with Al Masry given plenty of leeway and getting the benefit of most 50-50 challenges.
There was nothing, however, to suggest Yaw Preko prepared his side with this factor in mind. A few were rather soft, but FCIU gave away free-kicks by the bucket load; they may not have conceded from one of them, but it aided the hosts in maintaining constant pressure on their goal, keeping them pinned back. The reigning Federation Cup champions failed to muster any concerted attacking threat all game long, and simply spoiled for the shootout they subsequently made a meal of.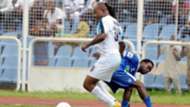 Sitting on a 1-0 first leg lead barely counts as sensible strategy. Their intent was clearly outlined by fielding the bumbling Ifeanyi Onuigbo in attack; all bustle, elbows and untenable hairdos, too few goals – the perfect 'striker' for scraps.
Enyimba made a similar error last season, needing a penalty shootout to advance into the Caf Champions League group stage even after winning the home leg 3-0. That this capitulation came even after opting to drop deep and giving away a dizzying amount of fouls – two of Etoile du Sahel's goals on the night came via set-pieces – goes deep to the heart of the problem.
It is also somewhat ironic, as it is precisely this sort of game management that the Aba giants came to be known for in their back-to-back Caf Champions League victories in 2003 and 2004. In 13 years, there has been no quantum leap.
So long as NPFL coaches remain incapable of planning out a game and preparing for specific eventualities, away games, especially in front of daunting Northern African crowds, will continue to hold undue menace.