A-League
'Not Castro'- Corica dubs Ninkovic the A-League's best marquee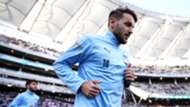 After picking up the Joe Marston Medal as Sydney FC pipped Perth Glory on penalties in the A-League grand final, Steve Corica has lauded Milos Ninkovic as the best marquee in Australia.
The Serbian was impressive for the Sky Blues in a tight affair with Corica adamant Ninkovic and not Diego Castro is the A-League's best import. 
Castro had been hailed by his teammates as the best in the competition in the build-up to the decider, but it was Ninkovic that left Optus Stadium with two pieces of silverware. 
"He is the best marquee in Australia - not Castro, he is," Corica said post-match.
"So I told him that before the game. People thought Castro, he's a top player as well, but this player here has won many trophies for this club and he'll continue to do so.
"He's the best number 10 we've had at the club." 
Ninkovic has now won two championships, two Premiers Plates and an FFA Cup since joining the Sky Blues in 2015. 
Sydney's grand-final triumph marks a stunning first season in charge for Corica with many initially skeptical of his ability to replace Graham Arnold.
"I've been doubted my whole career," he said. 
"It's a special moment. A lot of work goes into it and it's paid off in the end.
"I'm very proud of everyone."