Brazil
Neymar takes every team to a higher level - Trapp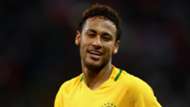 Paris Saint-Germain goalkeeper Kevin Trapp has outlined just how important Neymar is both to the Ligue 1 leaders and the Brazil national team.
The 26-year-old finds himself sidelined due to a broken foot, causing him to miss out as PSG crashed out of the Champions League at the hands of Real Madrid, and Trapp believes his absence was a costly one for the Ligue 1 leaders. 
Germany will tackle Brazil in friendly action on Tuesday, and the shot-stopper has said that his club-mate will be equally missed by the national squad.
"In Paris, Neymar is clearly missing in the team and it won't be different for Brazil," he told Sport Bild. "Neymar has an incredible quality that takes every team to a higher level. His performances often make the difference."
Despite moving to the Parc des Princes last August, the Brazil international has been linked with a move back to Spain, with both Barcelona and Real Madrid linked with the superstar.
Trapp, whose own future is also rather unclear, is hopeful that Neymar will remain with the Parisians for an extended period.
"We're delighted that we have him in the team and hope that he's in Paris for a long time," the Germany international said. 
"Every day there's something different about him in the papers. One day he's moving back to Real Madrid then it's back to Barcelona the next day. I don't know what will happen. But we're not annoyed."
He also moved to dismiss reports that Neymar is a troublemaker.
"Despite the hype, his feet are still on the ground, even if it's often portrayed differently," he said.
The 27-year-old is hoping to win just a third international cap on Tuesday in Berlin.