Simba
Simba's Ndemla delighted to work under Lechantre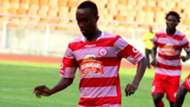 Simba's Midefielder Said Ndemla has revealed his delight over working under Pierre Lechantre due to his management skills.
Ndemla has emerged as a regular starter since the arrival of the Frenchman early in January to succeed Joseph Omog.
Speaking to Goal, Ndemla said that he is feeling better now after adapting to the new style of play.
The midfielder added that it always takes time to adapt to life under new management but he it has taken little time to know what the coach wants from him and to start delivering in matches.
"Lechantre is a great coach, he always wants to win and demand more from the players, I am thankful I have adapted to life under him in such a short period of time and I will deliver," said Ndemla.