NPFL
Nasarawa United's Dogo happy to end the season with a win
The Solid Miners' coach has thumbed up the determination of his players who secured fifth spot after winning the final game of the season.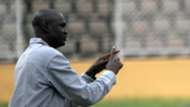 Nasarawa United head coach, Kabiru Dogo has revealed that he told his players and his other technical crew officials the importance of winning their final game of the season against ABS .
The former ABS handler said that he informed his players that they must be professional since the outcome of the match will go a long way to determine where they are going to be placed on the league standings.
"There was a lot at stake before the start of the match with ABS. We have discussed among ourselves that we were going to be as professionals as possible. I wanted the team to end the season impressively with a home win and I told my players the importance of the three points," Dogo told Goal.
"It was this reason my players came all out for a win irrespective of their previous link with our opponents and we thank God we were rewarded with a home win. Nasarawa United ending the season in the top is a big plus for me if we considered how we started the season. We gradually made our ways to the top half of the table and we hope to consolidate next season.
"It is unfortunate that ABS had to go down to the relegation zone again but I am very confident that the team will bounce back just like they did in their previous stint in the lower league. The players are still young and could have stayed up had they begun the season well."