Transfers
Napoli chief De Laurentiis makes sensational Liverpool-Roma joint ownership claim over £67m Alisson deal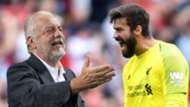 Napoli president Aurelio De Laurentiis has claimed Liverpool and Roma share the same owner.
The film producer made the accusation after he revealed that his side had made an offer for goalkeeper Alisson, who left the Italian capital to become the world's most expensive goalkeeper, at the time, and join Liverpool in a £67 million ($87m) move.
The Brazilian became the second Roma player to move to Anfield in the last year as he followed the path of star attacker Mohamed Salah.
It took Liverpool time to get a deal for Alisson over the line as Roma felt they had been ripped off when Salah moved to Anfield for £36m ($46m) in the summer of 2017.
The two clubs are currently owned by Americans, with James Pallotta overseeing Roma and John W Henry's Fenway Sports Group controlling the Premier League side.
And De Laurentiis, who is prone to making controversial claims, believes the connection between the two teams is more controversial than it would seem, suggesting that they are breaking UEFA rules, which state one owner cannot have more than one team in a European competition.
"Roma were dismantled and reassembled, I can't evaluate them: I wouldn't have sold Alisson, not even for €100m (£90m/$114m)," he told Corriere dello Sport.
"I had offered €60m (£54m/$68m) for him and they didn't want to give him to us... But then I understood that he would go to Liverpool.
"I've always suspected that the real owner of Liverpool is also that of Rome. A little bird whispered it in my ear a few years ago. And if that is true, with a shared ownership they could not both compete in the Champions League."
Despite missing out on the goalkeeper and losing highly-rated coach Maurizio Sarri over the summer, De Laurentiis is confident heading into the new season under Carlo Ancelotti.
"I was struck by Ancelotti's desire to return to coaching in a league that is returning to being competitive with the best leagues in Europe," he said.
"I'll quote a sentence from Carlo: 'I'm not here to comb the dolls'. I'm a supporter of Ancelotti, I do not worry about him, I know he will need time but the fans are desperate, they want to win: we want to win but we will need patience."