Indian Super League
Mumbai City FC coach Jorge Costa - My brand of football is all about three points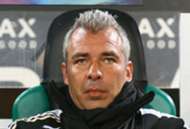 Mumbai City FC will be going into the upcoming Indian Super League (ISL) season with a positive approach, claims head coach Jorge Costa.
While satisfying the fans with an expansive brand of football is important, he concedes that all that matters is the three points that a win will bring. 
"We want to put out our positive approach. For us at Mumbai City, it's about playing good, offensive football," Costa told Goal. "We want to bring a type of game to the pitch that our fans look forward to watching us and we want to make sure they are entertained and they can go back home with a smile on their faces.
"For me, as a coach, my only brand of football is the one that will get me three points at the end of the game." 
Despite claiming that his team wants to play a positive game, a win is the most important thing for a pragmatic Costa. 
The Islanders have made interesting foreign signings ahead of the new season, with the likes of Rafael Bastos, Paulo Machado, Moudou Sougou and Arnold Issoko all having a Portuguese background, which should help the coach get his ideas across. 
Costa is pleased with how the recruitment has gone, even in the case of the Indian contingent. 
"I am very happy with the signings we've made this season. We have some players who come with a lot of experience and also some young players who bring a different set of qualities. But that doesn't make it any easier for us or means that the work stops.
"We always want to improve and be better than we were yesterday. So I can say, I am more than satisfied with the squad we have."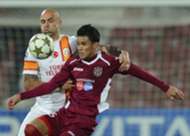 Brazilian attacking midfielder Rafael Bastos is a name he is very familiar with, given that the 33-year-old has played under Costa at Romanian outfit CFR Cluj. When asked about Bastos' role in Mumbai City this season, Costa stated, "I want to use him in whatever way that helps our system and the team.
"But also, when I sign a foreign player, it doesn't mean he will have any guarantees of playing. All of them will have to work equally hard and only the best players who can help us get three points will make the final 18 on a matchday."
The 46-year-old then went on to assert that while he has not set any initial targets for the team this season, the Islanders will fight for three points in every single match and take things on a game-by-game basis. 
"It's too soon to set an ultimate target. We cannot make any promises. The only promise I can make is that we will fight for the three points in every single game.
"No game will be an easy game for us. We will have to take it one game at a time and if we do make it to the top four, we chase a different target after that."