Mtibwa Sugar
Mtibwa's Katwila hails Yanga's young players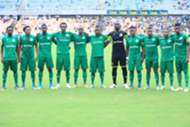 Mtibwa Sugar Head Coach, Zuber Katwila has hailed Yanga's young players after their performance during the premier league clash between the sides on Sunday.
Speaking after the match, Katwila said that, many people expected that the game will be easy for them but Yanga's young players produced a remarkable performance to keep Mtibwa Sugar at bay until last ten minutes when Hassan Dilunga broke the deadlock.
"The match was not easy at all, Yanga's young players were full of energy, speed and pace something which gave us a hard time going through them, but thankfully we got the maximum points from the game," said Katwila.
After losing the title to Simba, Yanga decided to use some of their second team players in the league matches in order to give some of the first team players a little rest ahead of their CAF Confederation matches.
Yanga's young players such as Hassan Fakhi, Festo Greyson, Burhan Yahaya, Paul Godfrey, Yusuph Seleman have all been featured in the past two league matches.