David Moyes
Moyes charged by FA over 'slap' comments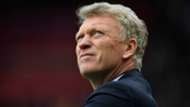 David Moyes will face a charge over comments made after Sunderland's fixture with Burnley on March 18, the FA has confirmed.
The former Manchester United boss was caught on film telling BBC reporter Vicki Sparks that he might "slap" her if she asked questions he deemed to be too probing in their next interview.  
In a statement, the FA said: "David Moyes has been charged in relation to comments made after the game against Burnley on 18 March 2017.
"It is alleged the Sunderland manager's remarks were improper and/or threatening and/or brought the game into disrepute, contrary to FA Rule E3(1). 
"He has until 6pm on 3 May 2017 to reply to the charge."
Speaking to Sparks after her interview concluded, following the scoreless draw, Moyes said: "It was getting a wee bit naughty at the end there so just watch yourself. You still might get a slap, even though you're a woman.
"Careful the next time you come in."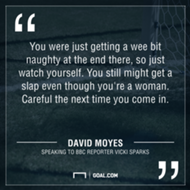 Once the statement was made public, the Scotsman was quick to retract his quotes, explaining at his next press conference: "It was in the heat of the moment.
"I deeply regret the comments I made. It's certainly not the person I am and I accept it was a mistake.
"I've spoken to the BBC reporter who accepted my apology and hopefully we can now move on."
Wenger: Alexis won't make PL move
The FA charge is just the latest headache for the Sunderland boss, whose side appear destined for the Championship next season as they lie 12 points short of safety with only six matches remaining.
The Stadium of Light outfit have not won a league fixture since February 4 and have picked up maximum points on only five occasions this term.
Last weekend, they drew 2-2 with West Ham and on Wednesday they visit Middlesbrough for a derby fixture that they have to win to keep their survival chances alive.