Osijek
Move over Man City and Barcelona! Croatian side post +101 goal difference... after just seven games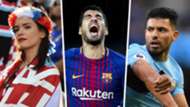 They may only be seven games into their season, but Osijek ladies team in the Croatian top flight have already registered over 100 goals. 
They're also yet to concede this season, giving them an overall record of seven wins and a whopping goal difference of +101!
And while the goals have been spread considerably across the team, top scorer Lorena Balic has already claimed 32 strikes for herself.
Second in the table is Split, who boast a mere +44 goal difference.
Only once have Osijek failed to hit double figures thus far this season; their 9-0 victory away at Agram their lowest scoring of the season.
Their latest outing was a trip to Trnava, a game which they claimed a 24-0 win!
While they may not possess such talents as Sergio Aguero, Lionel Messi or Robert Lewandowski, Osijek outgunned Premier League top scorers Manchester City, Barcelona in La Liga, and Germany's top scorers Bayern combined!
Next up for Osijek is Neretva, who sit in fourth place with a slightly less impressive goal difference of +3.