Manchester United
Mourinho blames ugly Everton football for Fellaini howler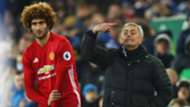 Manchester United manager Jose Mourinho has defended his decision to bring on Marouane Fellaini after the Belgian gave away a penalty against Everton that cost his side two points.
Angry Man Utd fans demand Fellaini exit
The Portuguese lamented the Toffees' move to an uglier style of football under Ronald Koeman as he justified sending for the tall midfielder in the final stages at Goodison Park.
Fellaini caught Idrissa Gueye in the 87th minute, only two minutes after entering the pitch, prompting Leighton Baines to cancel out the Zlatan Ibrahimovic goal that had seen United ahead since just before half-time.
Asked by reporters why he brought on the Belgian, Mourinho replied: "I thought you would know more about football than you do because the answer is obvious.
"Everton do not play beautiful football any more. They are now direct. Their style is direct. Williams is direct. Everything is direct and, when they are losing, they intensify their directness. When you have a player who is two metres [tall], you bring him on to deal with that."
Ibrahimovic facing retrospective ban
Mourinho's press conference then descended into the kind of refusal to comment that became stereotypically associated with his rival, Arsenal's Arsene Wenger.
The United boss tersely replied "I didn't see it" on multiple occasions when asked for comment on the foul for the penalty as well as a yellow card for Marcos Rojo that many felt should have been a red.
Though the draw means that the Red Devils have won only two of 11 Premier League matches, the under-fire Mourinho insisted that his side deserved far better.
"We were the best team on the pitch by far," he told BBC Sport, "and it is a result that doesn't reflect the difference of the performances of both teams.
Man Utd undone by Mourinho's Fellaini grenade
"We have to work the way we are doing. There have been amazing performances from Phil Jones and Rojo, players who have never [rarely] played for the club for the past two years. To perform in five consecutive matches against difficult opposition, I am so happy with the individual performances.
"[The result] leaves us playing extremely well even in tough matches like this and not getting results we deserve."