African All Stars
Mohamed Salah must improve at Liverpool, says Shaun Goater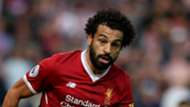 Shaun Goater has charged Mohamed Salah to improve on his goal conversion ratio in Liverpool this season.
Salah scored just two goals in 13 league games in his two-year spell in the English Premier League with Chelsea.
And Goater advised the 25-year-old attacker who joined the Reds from Roma this summer to improve on his goal ratio and justify himself as the Merseysiders' record signing.
Salah who notched 15 goals in 31 Serie A games last season, has scored a goal in two Premier League games for Liverpool this campaign
"He was at Chelsea for a spell, went overseas. He's now back at Liverpool, big-money signing, left-footed, predominantly left-footed, wants to cut in on his left foot," Goater said on SkySports.
"I think teams will look and think 'well okay, what are you going to do if I send you on your right foot?'
"That probably is his strength at large, coming in off the line, links up really well, creates and gets a number of chances.
"His ratio needs to improve, being totally honest in regards to him, because he does get a lot of chances."