MLS
MLS Spotlight: Amid plenty of challenges, Meram having breakout season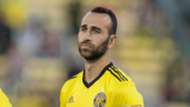 There were plenty of reasons Justin Meram could've had a down year in 2017.
The Columbus Crew winger was given a big raise in a new contract signed in March, before fears over the new U.S. administration's policy forced him to pull out of Iraq national team duty. Meanwhile, Columbus continued adding to the ever-growing supply of wingers it has acquired in recent seasons to compete with Meram.
But despite potential stumbles from complacency, international distractions and increased competition, the 28-year-old is instead a candidate for league MVP at midseason.
Liquor store side puts a scare in D.C. United
Meram has already equaled his career high with eight goals, has six assists and has been the linchpin for a Columbus side on the right side of the playoff line.
Though 2017 has been a breakout season for the Michigan native, it hasn't come out of nowhere. Instead, Meram has continued to build on steady progress made since Columbus selected him with the 15th overall pick in the 2011 MLS SuperDraft.
"When he first got to the league he was so raw, but you saw little glimpses that there was something special in him," Meram's teammate Josh Williams told Goal.
That potential truly began to blossom in 2014, when Meram set career highs in games played, goals and assists under new Columbus coach Gregg Berhalter.
In Berhalter's up-tempo system, Meram found a home as an inverted left-sided midfielder. With Berhalter's tactical guidance and finishing pointers from assistant Josh Wolff, a prolific scorer in his career with the U.S. national team, Meram has taken his game to another level.
"I've said it numerous times, I'll say it again: They've changed my career for the better," Meram told Goal of Berhalter and Wolff.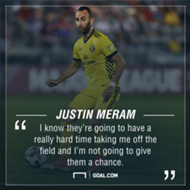 Armed with a knack for finding pockets of space and finishing chances, Meram has grown in stature both in the league's hierarchy of top wingers, and also in a more literal sense.
"He was always quick, he was always fast, but he wasn't powerful," Williams said of his teammate, whom he also faced as an opponent in two seasons away from the club in 2015 and 2016.
"He didn't have an ability to take contact and bounce off it. He'd be able to push it by you but then you could always get a body on him and throw him off his path. Now he's really worked in the weight room, he put the time in there and he's just more powerful now."
Though Meram has displayed steady improvement over the past few seasons, that hasn't stopped Berhalter from bringing in a seemingly unending supply of wide midfielders in recent years.
The club's constant desire for wide reinforcements has become a running joke in the Crew locker room.
"That is something that we've been joking about for a while," Williams said. "Since he's been here, there's always been guys in and out, and good players as well. We'll sign one and he'll say, 'Well there goes my spot.'"
Meram's joking predictions have failed to come true. Instead it seems with every new winger Columbus brings in, Meram's grip on a starting role only grows stronger. Kekuta Manneh is just the latest in a string of new acquisitions who have failed to dislodge Meram.
"The list goes on of how many wingers have come in the last four years but what can i do about it? Absolutely nothing," Meram said.
"If [Berhalter] feels he's a guy that can compete with me, so be it. I know they're going to have a really hard time taking me off the field and I'm not going to give them a chance."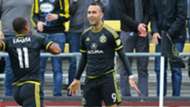 Though his importance to the team is unquestioned, Meram acknowledges he was close to leaving Columbus with his contract set to expire after the 2017 campaign.
But in March, Columbus management stepped up with a new deal taking his salary from to $185,000 in guaranteed compensation last season to a targeted allocation money (TAM) contract, which per league rules must entail a player making at least $480,625 per year.
It is an old adage in sports that a player will sometimes coast after getting paid. Meram, though, feels that it is the opposite in his case.
"To be honest I feel more pressure on me to deliver," Meram said. "Signing a new contract was a big life-changing deal and I didn't want to be the guy to sign a TAM deal and then take my foot off the gas. I really wanted to prove to everyone that this is my worth even more."
Pulisic unlikely to play in Gold Cup
Meram has more than proven that worth in 2017, but his year hasn't been without its downsides. Most notably, he's been forced to take a step back from playing for Iraq, which he has represented since 2014.
Meram, who was born in Michigan to Iraqi parents, declined a call-up in March in part due to fears of the Trump administration's travel ban. Though the executive order has been struck down by a series of court rulings, Meram has still yet to rejoin his national team.
"I'm not going to lie, it's very tough," Meram said. "I really wanted to be there with the squad but, look, life has timing and there are moments where everything will work out."
After the Iraqi federation unsuccessfully pressured Meram to change his mind in March, he says it has now backed off and will allow him to return to the fold when he's ready.
"I think they've done a good job of just letting me be, because they know how passionate I am to play for Iraq," Meram said.
Even without national team duty, Meram has plenty on his plate in Columbus. It's safe to say that will continue being the case, no matter how many wingers Berhalter brings in. 
"I'm sure in the future I'll be back representing my country but I can't focus on the negatives," Meram said. "I'm enjoying life, I'm happy, I'm playing really well and I'm healthy, so I have to continue this mindset, continue to help this team and get us more wins."