MLS
Respect grows as Columbus Crew eliminate NYCFC to keep underdog run going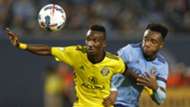 NEW YORK — The official record will show that New York City FC posted a 2-0 victory in Sunday's Eastern Conference semifinal second leg, halting the Columbus Crew's 12-match unbeaten streak. The reality is Sunday's match was effectively the second half of a contest Columbus blew open Tuesday, and the Crew did just enough to hold on and keep their MLS Cup hopes alive.
NYCFC made things interesting, scoring two goals to cut into the 4-1 deficit that carried over from the first leg, but Zack Steffen and the Crew defense made sure that's as close as they would come.
The series victory added NYCFC to Atlanta United on the list of higher seeds the Crew have disposed of as they ride the league's hottest run of form — a run that has forced the rest of MLS to take note of a team that was largely ignored nationally for much of the season.
"We definitely feel underrated, and that gives us some more fire and some more motivation, and that's what makes this fun," Steffen told Goal after his latest standout performance. "That's what makes these runs and the playoffs fun. We talk about it a lot. We just want to go out there and show the league, show MLS what we're about."
Two months ago, just as the Crew were beginning to put together the early part of their unbeaten run, Berhalter said he felt his team was underrated and overlooked. In his mind, Columbus could stand with any of the league's best, and his top players were just as good as those you would find on more high-profile MLS squads. What the Crew have done in knocking off Atlanta and NYCFC is show the truth in Berhalter's view.
"We're not in that market where people love writing about us," Berhalter told Goal after Sunday's win. "They like writing about the Atlantas and New York Citys and Torontos. But that's life. We're not sour about that. We just try to put our heads down and keep working."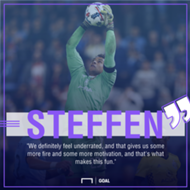 The Crew went into Sunday's match sitting on a three-goal lead that provided some comfort, but also left Berhalter with the tough task of trying to decide how to approach dealing with a desperate NYCFC side.
"That's the difficult part of the job, coming up with a game plan when you're up 4-1 and you go away, and that was our dilemma," Berhalter said. "Our DNA is not to sit back, so we high pressed them early. The goal, the penalty was a little bit unlucky — based on that play, to me it was a nothing of a play that resulted in a penalty kick. I think we had a good balance there. I would have liked a little bit more offense, a little more transition."
The Crew looked flat in the first half, offering little in the way of attacking threat as NYCFC piled on the pressure after that 16th-minute penalty from David Villa. The grind of having played an extra game in the knockout round — on the road at that — began to wear on the Crew.
"That's something people forget, that we've been running hard," Berhalter said. "Between the last game of the season, when you go to Atlanta and play 120 minutes, then back home, and then here again — the guys are tired. They're fatigued, but one thing I can say is they left everything on the field. They gave every ounce of energy and I'm proud of them for that."
When the Captain talks, we listen.#CrewSC | #ClaimGlory#NYCvCLB pic.twitter.com/vsOSr1Uaad

— #ClaimGlory (@ColumbusCrewSC) November 6, 2017
Berhalter helped take pressure off his defense in the second half when he inserted Kekuta Manneh, who was able to give the Crew attack some much-needed energy. Steffen, meanwhile, made some big second-half saves to limit the damage and maintain the Crew's series lead after Andraz Struna brought NYCFC within one goal with a 53rd-minute strike.
Columbus held off the late NYCFC onslaught to set up a two-legged Eastern Conference final against Toronto FC. The Crew will find themselves as underdogs yet again, though the fact that TFC will be without the suspended Sebastian Giovinco and Jozy Altidore for the first leg at Mapfre Stadium is a major plus for the MLS playoffs' Cinderella story.
First, the Crew will enjoy a much-needed and much-deserved two-week break during the international fixture window before continuing their quest to show MLS they deserve more respect. After all, beating the team considered by some to be the best ever built in MLS would serve as the ultimate feather in a cap suddenly filled with them.
"Playing TFC is going to motivate us, we're going to get up for it," Steffen said. "We're going to be in front of our home fans and we know they're going to show out."