Premier League
MFL confirmed one more to join Kuantan down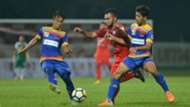 Malaysia Football League (MFL) today released a statement confirming the structure of demotion and promotion with regards to the second tier of Malaysian football - the Premier League.
This is of course due to the fact that Kuantan FA was kicked out of the league on April 20 due to financial problems which left the 12-teams league, one short.
Following discussions that was done on June 27, the board of directors of MFL have decided that that the same two teams from FAM League (third tier) will be promoted to the Premier League.
"The board of directors at MFL has decided to maintain the consistency of the number of teams promoted and demoted as was previously enforced to ensure the competitive nature of the 100Plus Malaysia Premier League is kept."
"We have come to an agreement to only demote one team after the conclusion of the league this season. This decision is made to avoid the drop of quality in the league if the numbers promoted from FAM League is not controlled.
"As such, the team in 11th position in the Premier League table will be demoted together with Kuantan FA. As usual, the top two teams in the FAM League will be promoted next season," said a statement released by MFL.
Sarawak, UKM FC, Penang, UiTM FC and Terengganu FC II are the teams currently in 7th to 11th place with only two points separating the highest and the lowest placed teams from this group, and they are the ones in danger of following Kuantan down to the FAM League.