Mexico
Mexico's Lozano, Gallardo, Alvarez look to build on dream World Cup debuts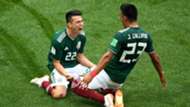 Nerves would've been understandable. They should've been expected.
Mexico's left side Sunday in a 1-0 win over Germany to open World Cup Group F play was comprised of two debutants, 22-year-old Hirving Lozano on the wing and 23-year-old Jesus Gallardo behind him at left back. There was experience, with Andres Guardado playing in his fourth World Cup in between the players, but Mexico boss Juan Carlos Osorio put his trust in the players.
That's easy to do when you have a player like Lozano, who is coming off a 17-goal season with PSV but perhaps less easy to do with Gallardo, a converted winger who has played for just one club professionally.
Neither player let nerves affect them in their World Cup debuts, with Lozano scoring and Gallardo turning in a tremendous performance to help El Tri to a 1-0 victory over the reigning champion.
"I had a lot of contrasting feelings. There was pride, excitement. I think I was really happy and just excited," Gallardo said after the match. The nerves didn't show with Gallardo ended the match with 41 passes completed, more than any other El Tri player. Though Gallardo already has agreed to join Monterrey from Pumas this summer on a long-term deal, his performance was good enough that reporters asked him if he was ready for a European move. Gallardo won the ball back 10 times and also dribbled past a Germany player on four occasions, with his previous attacking tendencies coming out as he came up the side to support Lozano.
Lozano was widely selected as a star under 23 who could make a difference this tournament. He got off to a great start. With Mexico's finishing continuing to be a concern (El Tri missed several chances to put Germany away), "Chucky" may need to give the team more. The good news is that he has more to give. He and Rafa Marquez were the only Mexico players never to give the ball away in the 90 minutes, and you could see Lozano's movement has taken a step up from his days at Pachuca.
Not that there isn't still quality to be found in Liga MX. There's Gallardo and Edson Alvarez, who at 20 is the youngest player on Mexico's roster. The Club America defender entered in the 58th minute and helped El Tri keep the clean sheet needed to cap off the upset. Alvarez battled for playing time all season with America, but with injuries keeping Diego Reyes and Nestor Araujo out of the tournament, Osorio has given him confidence.
"I think it's the most important game in my life so far in every way. My debut, beating Germany, I'm totally happy," Alvarez said. "You don't know all the work that's behind this. The manager took time analyzing Germany, every change, every little thing was planned. So, you also have to hand it to him and those that deserve it and we'll just carry out his plan."
While Osorio certainly took a gamble in starting Gallardo and bringing in Alvarez, the plan worked.
And he didn't simply toss them in the deep end. The groundwork had been laid far in advance. Osorio took Alvarez to the Confederations Cup in 2017 to practice with the senior national team though the young defender wasn't named to the roster. Gallardo played in every Gold Cup match and made several appearances for Mexico at left back after in pressure-packed situations, while Alvarez excelled at right back in the same tournament.
That belief in his players was evident as the whistle blew and players ran over to hug and high five the coach. It's even more important for the young players who Osorio has believed in when many in Mexico haven't. The experiments and frequent modifications were ridiculed, but it's obvious the players believe in the manager.
"I've always said I'm with Osorio to the death. I'm really thankful to Osorio because of the chances he's given me in the national team and the confidence he has in me, and I have in him. I'm really confident and what I can do for him is to give 100 percent in the games," Gallardo said. "I never expected I'd have that kind of confidence, but he's believed in me, and I'm trying to respond to that on the field."
They did that and in the process showed there's pretty much nothing that could intimidate them. Their first World Cup match against the reigning champion in a national stadium packed to the gills? It was a challenge the three young players faced and overcame. Osorio is fond of saying that these players are the "future and the present of Mexican soccer." Continue along the same path, and they'll be remembered fondly for years to come as the stars of the past as well.