Mexico
Mexico vs. Belgium the 'high-level test' El Tri needs before 2018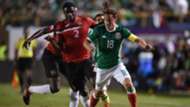 Mexico manager Juan Carlos Osorio's first job is done. Now, his second begins.
The Colombian tactician got El Tri qualified for the World Cup in Russia without breaking a sweat. He now must turn his attention to preparing the team for a World Cup run that fans hope will see Mexico make it to the quarterfinals for the first time ever at a tournament taking place on foreign soil.
Mexico wisely is looking outside the region for it's first post-qualification examination, facing Belgium on Friday before traveling to Poland on Monday. Belgium sits fifth in the FIFA rankings and hasn't lost for more than a year, boasting a six-match winning streak and a 13-game unbeaten run since falling to Spain in a friendly on Sept. 1, 2016.
Still, while Belgium will be a stern test for El Tri midfielder Andres Guardado has loads of confidence that the group can match up with even the world's best teams, including the Red Devils.
"A lot of people will call me crazy, but if you're not going to a tournament to be the champion, what are you going for?" Guardado asked during Thursday's news conference. "That's the mindset we have today in this group of players that's here and that's why we want to prepare in the best way possible going into the World Cup to finally get something historic for Mexico."
This team may need only to arrive to a fifth game to be considered the best Mexico team at a World Cup not based in Mexico, but a championship would clinch their position in the record books. The issue is that Mexico showed at the Confederations Cup that it's not quite there yet. A spot in the quarterfinals could be within reach, but winning the tournament - well, forgive us if we're part of the group Guardado envisioned wondering about just how sane he's being.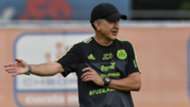 These games, particularly Friday's contest with Belgium but also Monday's meeting with Poland, are the first step toward getting to that level as quickly as possible. A lot comes down to the individual players. Does Mexico have a right back to cope with wingers from the top-tier teams they'll meet at the World Cup? Well, whoever is responsible for that job Friday will have to deal with Eden Hazard. No defensive midfielder? Good luck making sure Kevin De Bruyne doesn't get forward. Maybe Edson Alvarez lines up in the middle to stop that or Osorio looks to tuck Guardado or Hector Herrera inside.
No matter how Mexico lines up Friday, the players on the field will be running into the same challenges they'll face in eight months. That's why scheduling these matches was so important for Osorio and the federation. Playing another CONCACAF team or a mid-level South American side is fine, but going to Europe to face two top teams is more valuable. In previous cycles, these are the kinds of games Mexico has lacked. That's not to say it's an instant cure for Mexico's ills. It may serve only to show just how many areas Mexico has to correct before reaching the goal Guardado outlined. 
The match Friday will require Mexico's best, with Osorio hoping the team can put in a solid performance similar to the one it had against reigning Euro champion Portugal in a 2-2 draw to kick off the Confederations Cup.
"It's a high-level test for us," Osorio said. "We're going to look for the best team we have. We've deeply debated with the players about what our strategy should be tomorrow and how we're going to approach the game.
"I think we're going to give them the respect they deserve, but we're going to put out a team with the ability to fight for possession and also control their aerial game really well and see if tomorrow we're at the best level to be able to show something similar to what we did in the first game of the Confederations Cup."
Even that game may not have been a good enough performance for Mexico to win silverware, but for now the team can focus on getting the best group on the pitch and attempting to pass the test Belgium will pose. It's the perfect way to begin a period of preparation that will need to be productive for Mexico to have any hope of reaching its goals.