Mexico
Mexico puts in most fluid performance of 2017: Five Thoughts from El Tri's draw vs. Costa Rica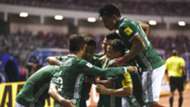 It wasn't a dead rubber, but Mexico's trip to Costa Rica had little at stake for El Tri.
While the home side was looking for three points to guarantee it will be in Russia next summer, Mexico is entering into the preparation phase with its space at the 2018 World Cup secured.
Even so, we got one of the more entertaining games of qualification, with both teams' goalkeepers putting on a show in a 1-1 draw that seemed like a fair result.
Let's look at how Mexico's World Cup preparations started and what to keep an eye on as next summer draws closer:
---
Mexico puts in most fluid performance of 2017
---

With seven clear chances and an overall solid passing game, Tuesday's draw with Costa Rica was Mexico's most fluid game of 2017. Part of that, no doubt, was Costa Rica also looking to play a little soccer, trying to get forward and score goals rather than pack it in and hope for a clean sheet. But you also can chalk up much of that to what Mexico did and how it played its game.
Jonathan dos Santos kept the ball moving and got into the attack when possible, the wingers were tidy on the ball, and even the fullbacks got into the act when able to get forward (see point five). In a year when even Mexico's best performances left a little something missing, it was a breath of fresh air for El Tri.
"Mexico, with the great group of players it has, including some young players, is going to grow in maturity and experience to be able to have a healthy internal competition with those who normally play in these positions," Mexico coach Juan Carlos Osorio said postgame. "We're still building a team that might not be only the best in CONCACAF but also one that deserves to win and comes out to play and look for the win in every game."
There likely will be more changes in the October qualification games. Mexico is qualified, so why put veteran players at risk or make them take a pair of transatlantic flights just to play 90 minutes against Trinidad & Tobago? But El Tri can hope that they continue to play a crisp game that creates chances — chances that will turn into goals on nights when Keylor Navas isn't the goalkeeper.
---
Reyes still needs consistency
---

Another game, another new role for Diego Reyes. And, unfortunately for him, another disappointing showing. Reyes was responsible for several giveaways that allowed the Ticos to put pressure on center backs Hector Moreno and Jair Pereira.
Reyes is talented but his versatility can be a curse. He's never looked totally comfortable in a role — not at right back at the Confederations Cup, not the year before sitting in front of the center backs (in a similar role to what he did Tuesday), not even when he's filled the center back position he grew up playing. He was improving there, though, thanks in part to his time at Espanyol. But being moored at Porto and out of favor doesn't bode well for the next four months for Reyes.
Osorio probably likes Reyes' versatility too much to leave him off the squad for Russia, and if Rafa Marquez can't go to the tournament because of his legal difficulties Reyes is a younger model of sorts. But without consistency at the club or international level, it's hard to see him making a positive impact at the World Cup.
---
Jimenez making case as wing option?
---

Raul Jimenez may be the most unlucky player in the Mexico player pool. He can get cameos, like he did against Costa Rica. He can play well and set up Mexico's lone goal with an impressive run down the right side. But there's no way he's displacing Javier "Chicharito" Hernandez as the starting central forward.
Osorio has answered that issue at times by putting the former Club America No. 9 out wide. He pushed out to the right against the Ticos, with the three center backs clogging the middle and making him get creative. It hasn't always worked out when he's played on the wing, but Tuesday was better. 
Even in that respect, he's unlucky. Jimenez might see more cameos, but beating out Jesus Corona, Hirving Lozano and Carlos Vela is going to be difficult. That's doubly true if Jimenez can't force his way into the starting lineup at Benfica while Tecatito is getting starting minutes at rival Porto, Lozano keeps starring for PSV and Vela at least is coming off the bench for Real Sociedad.
"I've got to go to Benfica and train very hard to win a spot as soon as possible," Jimenez said. "I know it's not going to be easy, there's good competition at Benfica, but I think I'm in the right conditions to do it. I'm aspiring to do that, getting to the World Cup was a goal and now being there it'll be the coach's decision."
---
Physicality still coming for Chucky
---

Hirving Lozano failed to score for the first time in five matches for club and country Tuesday, but he still had a good showing against the Ticos. "El Chucky" won 10 of 14 duels he got into and brought Navas into action, only for the Costa Rica star to deny him and end his stunning scoring streak.
More intriguing, though, was watching Lozano get into those duels. The 22-year-old was the most fouled player in Liga MX before he made the move to PSV. Teams knew exactly what he brought to the table and right backs were aware there was one thing they could do to get him out of his rhythm: foul him. Lozano is in the Eredivisie now, but that hasn't changed defenders' strategy. Francisco Calvo made sure Lozano knew where he was as Lozano matched up against the Ticos' left center back.
He's not the only dynamic young attacker starting to get this treatment, and CONCACAF referees must do more to look out for players like Chucky and United States playmaker Christian Pulisic. But those players also are now well aware of what they'll be facing and have to understand how to deal with that.
That's starting to happen for Lozano, which could make him an even better player. He's bulking up just a bit, which he must do to avoid more injuries, but he's also seeking out some of the contact defenders used to try to put on him. It's small growth, but critical for survival. He's starting to understand how to use his own body against those who would harm his, but he's still figuring out what he can and can't get away with.
Apart from simply bodying up, Lozano and his teammates had opportunities that could've sealed the win, but he won't be missing sleep on the flight back to the Netherlands.
"We had chances before their goal, and in one or another of those scoring chances we could've changed the outlook, but that's soccer," Lozano said. "You have to support your teammates. It's all good."
---
Gallardo, Alvarez quiet fullback noise
---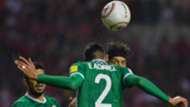 Concerns about El Tri's fullback situation remain, and probably will after just about any Mexico game. But Tuesday night put those issues on the back-burner as Edson Alvarez and Jesus Gallardo turned in strong performances.
Club America teenager Alvarez lined up at right back while Pumas' Gallardo, a winger with his club, played left back in the absence of Miguel Layun. Osorio said he was pleased with the atmosphere in the Estadio Nacional despite how far fans are from the field and liked how his young players took up the challenge.
"It's a great experience for the young players like Jesus Gallardo, Edson Alvarez, Hirving Lozano and Cesar Montes, who came on in the second half, they're both the present and the future of Mexican soccer and they're going to grow a lot," the coach said. "It's very difficult to play here. The point here puts us within our mark of getting four out of six points in every FIFA date, we still have the chance to finish as the leader."
Not insignificantly, both players were able not only to play the position before at the Gold Cup but did so multiple times in quick succession. Osorio even kept Gallardo in the same position for both World Cup qualifiers after maneuvering him around during the continental championship.
Again, it's an example of how letting a player make and learn from mistakes in the same position can help them grow. That's not to say Osorio needs to keep them there ad infinitum, but if they're going to take the field in such big games and such difficult atmospheres, a bit of familiarity goes a long way.