Transfers
'He will be a sensation' - Merson excited to see Mkhitaryan join up with Wenger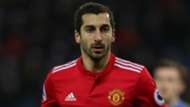 Paul Merson believes Henrikh Mkhitaryan will be a "sensation" at Arsenal as the out-of-favour Manchester United playmaker closes in on a move to London.
Premier League rivals Arsenal and United are reportedly close to completing a deal which will see Alexis Sanchez and Mkhitaryan swap places.
Mkhitaryan has fallen out of favour with United manager Jose Mourinho this season but former Arsenal attacker Merson is confident the 28-year-old Armenia star can flourish under Arsene Wenger at the Emirates Stadium.
"I am a big fan of Mkhitaryan," Merson told Sky Sports .
"I watched him at Dortmund, where he was voted player of the season and scored plenty of goals. He has lost his way at Manchester United but if Arsenal get him, with the way they play and the way Arsene Wenger is going forward with attacking players, I think he will be a sensation.
"He is a great signing for Arsenal if they get him.
"Sanchez is top drawer, but to get that kind of quality in January is very rare. Mkhitaryan is one of the best in the Premier League. Any offensive player going to Arsenal under Arsene Wenger is a good move."
Merson is not alone in his line of thinking. 
Phil Neville also believes that a move to Arsenal adds up for the Armenian, who he believes will be a "a fantastic signing" for the Gunners .
Arsene Wenger also believes that the addition of Mkhitaryan will soften the blow of losing Sanchez for both Arsenal and the club's fans  and has expressed his admiration for the Man United playmaker . 
And while Arsenal landing Mkhitaryan has brought about plenty of excitement, former Manchester United coach Rene Meulensteen is thrilled to see the deal made because he thinks Sanchez will be a great fit for Jose Mourinho's side. 
He told Goal:  "It is a really good move for Alexis Sanchez. Because he is in the mould, he is the type of player that Manchester United fans would like to see - high energy, high work rate, he creates, he scores goals."
Both clubs will be in action on Saturday, with Manchester United taking on Burnley and Arsenal set to face Crystal Palace.
If the deal will be completed by then remains to be seen.