Johor Darul Ta'zim
Melaka United joins banter era with latest post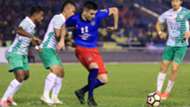 Could this be a cheeky dig from Melaka United at Johor Darul Ta'zim (JDT)? 
In one of Melaka's social media post, they put up a picture of Jeon Woo-young with the caption - "Passion beats talent".
Now, it could easily mean that Melaka sees themselves not as one of the most talented teams in Malaysia but one that would pride themselves with the hard work and desire to overcome deficiencies elsewhere.
But given the timing of the post, it could just as easily be a cheeky banter towards JDT - as the Southern Tigers are easily the most talented team out there whom Melaka managed to hold out to a 1-1 draw last weekend and Jeon was the goalscorer.
Football is taken too seriously sometimes and a friendly jibe, if it was meant to be construed that way, just have to be taken with a large pinch of salt and a smile.