PSV
Meet Steven Bergwijn - the young Dutch & PSV sensation tipped for superstardom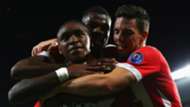 A wave of paranoia washes over Dutch football with the arrival of every transfer window as Europe's richer sides begin to circle above, ready to swoop in and snatch the best players from the Eredivisie.
Justin Kluivert's move to Roma, the ongoing speculation surrounding Frenkie de Jong and Barcelona, and the eyes leering at Hirving Lozano have had many on edge in the latest instalment, causing concerns to spread to other prized youngsters. As soon as talk of interest from the Premier League, Bundesliga, Serie A and Ligue 1 in PSV winger Steven Bergwijn was raised again by De Telegraaf in June, it seemed another future star would be offered up as prey to the hawkish super clubs.
As far as PSV and Bergwijn were concerned, there was no chance of a move materialising, but their repeated assertions did little to dampen speculation as the 20-year-old still faced questions over his future. Yet, they have indeed held off the advances that have been coming in for a long time by extending his contract to 2022 and, although he may still be a rising star, it may be a decisive move in the reigning league champions' season.
PSV have undergone some big changes this summer, as long-term technical director Marcel Brands left for Everton and coach Phillip Cocu went to Fenerbahce, allowing Mark van Bommel to step into his first head coaching role, while they have three new faces in defence. The Eindhoven side have been labelled underdogs for the title this year amid the challenge of an Ajax side boasting Dusan Tadic, Daley Blind, Hakim Ziyech, De Jong and Matthijs de Ligt. However, Van Bommel has a lot of firepower at his disposal, and Bergwijn is one of his lethal weapons.
While most of the excitement in Eindhoven has been building around Mexican star Lozano over the last year, Bergwijn has commanded his fair share of attention. Fast, skilful and direct, he terrorises defences when he dribbles at top speed, keeping the ball under close control and ducking, twisting and turning past opponents. He can score fabulous goals as well as set them up, and he can hardly be accused of lacking effort when it comes to tracking back.
The Almere native has long had a reputation as a player with great promise. He arrived at PSV at the age of 13 after six years with Ajax and was soon tearing through the academy. Before long, he was making a big impact at national youth level, too, and went on to be named the Golden Player as the Dutch reached the final of the Under 17 Euros in 2014.
By the time he made his Eredivisie debut as a 17-year-old in Memphis Depay's last home game at PSV, he had been touted as the Manchester United-bound winger's successor as the electrifying star in Noord-Brabant.
"I think we have a great talent in Steven Bergwijn," Memphis said that day. "He is doing great in training. I believe in him."
Now having made more than 80 senior appearances for PSV, Bergwijn's development has been steady in these past three years and the belief in his potential has risen even more in the wake of last season – his first as a regular starter.
He was decisive in several games as he pitched in with eight goals and seven assists. He overturned PSV's early slip up with a double to seal a 2-1 win over Sparta Rotterdam, made decisive interventions against Feyenoord, Ajax and Groningen among others and humiliated Utrecht with a goal that went viral in an encouraging breakthrough year.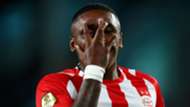 Determined and focused, he looks capable of kicking it up a gear this campaign, given he has started it at full speed. Utrecht were once again the victims as they visited Eindhoven for Van Bommel's first Eredivisie game as a coach. As he blasted the ball in from outside the box for his fourth goal in five games against them, his mark had been well and truly made. Moments later, he sent a dangerous cross to the backpost that Lozano failed to connect with and then went on a dazzling run.
But the most eye-catching moment came later when he collected the ball in the middle of Utrecht's half, turned and drove towards goal. Skipping past three defenders, he looked set to tuck it past the goalkeeper and in but instead squared it to the unsuspecting Luuk de Jong, who was caught off guard and then robbed of the chance.
It was a delightful, but surprising moment from a player who rarely shies away from having a shot, even from long range, yet he was happy to surrender a possible season highlight because he wanted his team-mate to score.
Bergwijn was again one of PSV's brighter attackers in an erratic game 3-2 Champions League playoff win in Borisov on Tuesday. His flick onto the hand of Nemanja Milunovic to win a penalty provided the equaliser and proved to be a turning point, but he grew into the game even more in the second half, where his speed, technique and neat passes added a lively threat against BATE.
"I feel comfortable in my skin and feel a lot of trust from Mark van Bommel, that's important," Bergwijn said last week. As he continues his rapid ascent, Van Bommel's confidence in him will only rise, but top coaches may soon be lining up to offer their trust in him too.