Ben Davis
Maybe Ben Davis should turn out for Thailand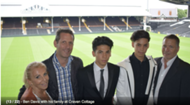 The Ben Davis saga finally made its way to Parliament this week with the facts of the case being discussed at length. To cut a long story short the outcome for Ben remains the same and Singapore will not be granting the talented teen a deferment on his NS (National Service) duties.
When news first broke out on this sporting issue, it left the country divided. Significantly, it saw Singaporeans split into two groups. One group sided with the government and the other who sympathised with Ben's predicament.
Here we have a talented individual who has a chance to represent Singapore on the elite stage in football, yet he is curtailed by the country's defence policy and inflexible political stance. This can be all too much to take in for a teenager still finding his feet in a world where the spotlight has been cast on him.
But as someone who does not like to see talent wasted I would love to see Ben and his family not waste time on fighting a losing battle, and able to further his footballing career. That is why I feel the player should renounce his Singapore citizenship and opt to play for Thailand; a country which has more often than not stated its intention to embrace him with open arms.
At a Nike event I attended, I clearly remembered Thai journalists badgering me on my views about the whole saga. The journalists in particular were trying to pick my brains and see if I would sympathise with Ben or be on the opposite. I will not state my views plainly but it would be hard to argue that as a Singaporean I feel just as divided.
And it is in the name of this division why Ben should head to Thailand. Should he go there, he will find a nation who is a footballing powerhouse in the Southeast Asia region. Thailand and its people will be grateful to have him not just for his footballing skills but also given that his mother is of Thai origin.
Moreover Ben will also be following in the footsteps of Charyl Chappuis. Chappuis was born in the town of Kloten. His father is Swiss, while his mother is Thai. Up until 2011, Chappuis was still playing for Switzerland. He even won the 2009 U-17 Fifa World Cup with the country. It was only in 2013 that he switched to represent Thailand and play for Thai football club Buriram United.
While Chappuis may not have the bane of NS to contend with, the duos have similar backgrounds if one takes a closer. Earning a professional contract with an English Premier League club proves that the sky is the limit for Ben, but in order for that to remain he must make the right decision now. Or, he may find himself being limited by the forces that once nurtured him.
Fandi Ahmad once mentioned he felt that his talents were better valued across the causeway; maybe for Ben his talents could merit a better appreciation, not just across the causeway but beyond it as well.
The views expressed in this article are the author's own and do not necessarily reflect Goal.com's editorial stance