Africa U17 Cup of Nations
Manu Garba: Golden Eaglets know their likely semi-final opponents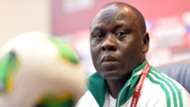 Golden Eaglets head coach, Manu Garba has noted that he and his wards are aware of the threats and weaknesses of their likely semi-final opponents at the ongoing African U17 Cup of Nations qualifiers in the Niger Republic.
Nigeria's cadet side bounced back from a humiliating 3-2 loss to Burkina Faso to beat Cote 'd' Ivoire 5-1 in their last group stage tie on Thursday in Niamey to advance to the semi-final while awaiting their next foes.
Speaking ahead of the Wednesday showdown against either Ghana, Niger Republic, or Togo Garba disclosed that having watched the games of the three teams he and his technical crew know what must be done to plot their fall and that they are not afraid of any of them.  
"At this point in time qualifying for the semi-final is the most important thing," Garba told the media.
"Whichever team comes we have already seen them and we know how to handle them. Today's (Thursday's) game would have been a difficult match because Cote 'd'Ivoire have seen us play but we were yet to see them before the game."
The tactician thumbed up the performance of his players for rising up to the occasion in such high-intensity match against the Ivoriens and also affirmed that the technical crew must be applauded for mapping out a winning strategy.
"I think we should give credit to the boys and the entire technical crew for mapping out the strategy that ensured we won emphatically by 5-1," Garba continued.
"Either Ghana, Niger Republic or Togo we; have already seen them and so we know how to approach the game. The most important thing is to win the next game because it is going to be the knockout stage now. We have to be very strategic because a winner must emerge at the end of the semifinal game and I pray it is going to be Nigeria.
"Well all we wanted was a two-goal difference to be sure of qualifying for the semi-final but now that we have won by four goals difference I think there is no cause for alarm. We created a lot of chances in the first and second half but unfortunately, our boys didn't take them.
"We are still going to train very well and try to work on some of the lapses noticed both offensively and defensively and God's willing in the next game some of the chances missed are going to be converted."