Super League
Maniam happy with Selangor's commitment, Sathit urges Kelantan not to give up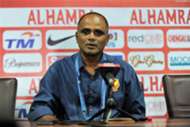 ---
BY         NIK AFIQ        Follow on Twitter
---
Selangor head coach, Maniam Pachiappan is full of praise for his players after they comfortably defeated Kelantan 2-0 away from home last night.
Maniam explained that the great commitment shown by the players helped them bag the three points, while also praising 19 year-old Syahmi Safari.
"The players showed great commitment. We can see that they worked really hard during the game and that is why we got the win."
"We had plenty of chances in the first half, and we focused more on defending in the second half. The players did well and really focused on getting the three points," praised Maniam in the interview with the match broadcaster.
On Syahmi Safari, Maniam said: "For a 19-year-old, we can see that he continues to improve in every game. He played well going forward especially when he is playing on the right side."
Meanwhile, the assistant head coach of Kelantan, Sathit Bensoh admitted that the early goal scored by Juliano Mineiro affected the players' confidence.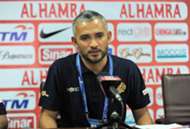 Kelantan assistant head coach Sathit Bensoh. Photo by Wawan Faiz/CSN
Mineiro scored three minutes into the game and Sathit said the players failed to cope with the pressure afterwards.
"This is football. A lot of things can happen in the game. Tonight we conceded a goal too early. After that, the players felt the pressure and lost their confidence."
Commenting on the three straight defeats at home, Sathit urged the team to never give up.
"I don't know how to talk about it because we lost at home three times in a row. We have to improve because we are not winning our games."
"We must keep working hard, never give up and continue to fight," added Sathit.
Juliano Mineiro scored twice for Selangor to take the Red Giants to third in the table, while Kelantan are sitting just above the relegation zone, but with one game in hand.