Manchester United
Man Utd must pay another €10m to Monaco for Martial after 25th goal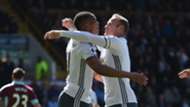 Manchester United must pay Monaco €10 million after Anthony Martial scored his 25th goal for the club against Burnley on Sunday.
The French striker found the back of the net after having not scored since February 11 against Watford, making it 1-0 midway through the first half before Wayne Rooney doubled the lead shortly afterwards.
Griezmann considering Man Utd offer
Martial joined Man Utd from Monaco in 2015 for an initial €50m which could eventually rise to close to €90m due to several add-ons included in the deal.
And one of those add-ons, a €10m payment after scoring 25 goals in all competitions for United, has now been triggered.
The 21-year-old forward arrived with little reputation in England, but he impressed by scoring 17 goals last season.
Martial has now scored eight goals in 34 games in 2016-17 - a considerably less impressive haul - after converting at Turf Moor in the 2-0 victory.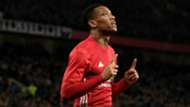 There are two other scenarios that could see the final fee United pay for the Frenchman rise to close to €90m, according to documents obtained by Football Leaks back in January 2016.
GALLERY: Clasico players as musicians
If Martial reaches 25 international caps with France – he is currently on 15 selections – they will pay another instalment of €10m, and another similar payment if he finishes in the top three of the Ballon d'Or voting at any stage during his stay. 
United may also have to give Monaco a further sum should they sell him for over €60m, although this depends on which of the previous clauses are met.