Stats
Man City dominate Chelsea to send a title warning shot to their rivals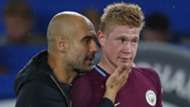 It might not have been achieved with the free-scoring ease that Pep Guardiola has become accustomed to seeing from his Manchester City side, but the 1-0 victory over Chelsea at Stamford Bridge on Saturday was perhaps the greatest warning shot they've given their rivals yet.
Against the champions, away from home, City dominated the game to an almost outrageous degree, reducing Antonio Conte's men to just four shots over the course of the match. Admittedly, these efforts came from good positions, but had the Blues snuck out of the encounter with a share of the points they would have seen it as a flattering outcome.
Instead, it was left to Kevin De Bruyne to take centre stage with a moment of individual brilliance that complemented the team's dominance of proceedings. The Belgian's effort from the edge of the box that rocketed into the net was one of 12 efforts that Guardiola's men had over the course of the game, nine of which came from inside the penalty area and half of which found the target.
To understand just how much of a grip on proceedings that they had, however, the statistics of the game must be examined in their entirety. City had 62 per cent of the ball and completed 653 passes – approximately a third more than their opponents. Indeed, Chelsea's passing statistics were down roughly 100 on their Premier League average for the season going into the match.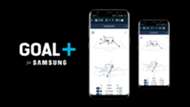 The guests' short, intricate style meant that they completed 89% of these, while their individual talents in possession meant that Chelsea were successful with a mere 68% of their tackles.
When the home side did have the ball, City's high pressing meant that they very rarely had it in an area where they could hurt the visitors. Indeed, a measly 19% of the ball was retained in the final third of the pitch and a whopping 43% of their possession came in the third closest to their own goal.
So not only did City win the possession battle comprehensively, they also claimed a territorial victory on a similar scale, despite Chelsea choosing to line up with a five-man midfield that would have been designed with a view to restricting their opponents.
Critics who believe that City's defensive capabilities still need tested got their answer at Stamford Bridge - Pep will simply not allow the opposition the opportunity to get at his side's perceived weakness by exerting overwhelming control. 
All stats featured in the article came courtesy of the Goal+ app, exclusive to Samsung devices. Download the most cutting edge football app now!