PSL
Mamelodi Sundowns' experience shone through, says Mosimane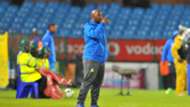 Mamelodi Sundowns earned a valuable three points against Ajax Cape Town, on Tuesday night.
Two second half goals by Percy Tau and Themba Zwane, were the difference at the Loftus Versfeld Stadium, and the victory catapulted the Tshwane giants into second place on the Premier Soccer League (PSL) table.
It was a tightly contested affair on the night, as Ajax put on an impressive display. Following Sundowns' victory, Masandawana coach Pitso Mosimane lauded his side's experience, on the night.
"A very difficult game. A very important win for us," Mosimane said post-match.
"We struggled a little bit, they did not respect us. They pushed us in the first-half but we had experience to play this game, especially when you (saw) how we scored the goals. They pushed a high line and we managed to get behind them.
"But I think (Hlompho) Kekana and Lucky (Mohomi) showed some leadership and experience. This game, we won it by experience," Mosimane added.
During the first half, the crowd began to get on the back of Tau for a disappointing showing, but Mosimane's persistence with the youngster eventually paid off.
"You don't give up on important players, and (Tau) is young," he said.
"Everybody was a little bit on his back but he just needed that hand over his shoulder just to make him feel that he's supported. I told him that he must just relax, his goal will come, and the goal came for him," Mosimane added.
Speaking of Sundowns current log standings, Mosimane was optimistic of his team's title defence.
"It's encouraging, what can I say it's football," Mosimane said.
"We had our slump, with five games where we drew three and we lost two. We got two out of fifteen points. It was very big for us, it was the biggest dent for us. But you keep going, you keep playing and you play the way you always play. But tonight, in the first half we didn't play the way we always play, because Ajax did not respect us, they pushed us to the limit.
"In the second half they thought they could grab it, but the experience kicked off and we knew we could grab it. But we don't have to look at the log situation.
"As I said I envy Kaizer Chiefs, they did five (wins) in a row, I hope we can do five in a row. I think five in a row will put us in the driving seat.
"We kept a clean sheet and you know when it comes to this time I don't change the line-up. I just keep it the same.
"The boys did well, Ajax is a good team.
"The young boy of the under-20 (Grant Magerman) is going to go places. An unbelievable player," Mosimane concluded.