Super League
Malaysian match officials gets new look for 2019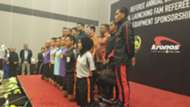 With all teams in the Malaysia Super League and Premier League working hard to prepare for the 2019 season, it is no different for those in the middle of the pitch who keep the actions in check during a match.
Match officials will get to don new kits and equipments for the next three years after FAM signed off on a sponsorship deal with sports manufacturers, Kronos in a dinner event in Selangor on Saturday night.
The general secretary of FAM, Stuart Ramalingam represented the governing body in the signing ceremony and he pledged the association's desire to continue to provide better quality of match officials for the local tournaments.
"We had a seminar of fitness test with 58 referees and referees examination with 24 referee assessors going through the course the 2-day course. This was concluded by the signing of Kronos as the official attire of the match officials for three years. So from 2019-2021, all referees with FAM will be wearing Kronos equipment."
"There's a lot of discussion on how to improve the quality of referees in 2019 that starts with FAM where we need to improve courses, education and support services that we can give to them. Discussion of pro referees with MFL is also on-going and hopefully we will have a final verdict on it in the coming two weeks.
"It's not just about changing the status of the referees from amateur to professional but we also have to look into the personnel, cost and how we implement it. From FAM, we are looking at what are the best way to go about doing it," said Stuart to the press after the event.
The move to make the referees a professional outfit is seen as an attempt to improve the quality of the match decision makers who have come under heavy fire following their performances in the domestic league and cup competitions last year.
With the use of social media, the barrage of abuse and criticism have increased tremendously, which puts great pressure on the match officials. One such incidents in 2018 also led to the departure of Subkhiddin Mohd Salleh as head of the referee department and now it is incumbent on Tuan Dali bin Wahid to take over the reins and move the outfit forward.
Follow Goal Malaysia on Instagram