Malaysia
Sharper Darren ready to cause trouble for Hong Kong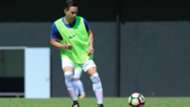 A win that is vital to the cause if Malaysia retain any hope of reaching the finals in United Arab Emirates (UAE) in 2019. 
Three points on Tuesday at Hong Kong National Stadium could take Malaysia up to second spot in the group, a spot that would be enough in UAE two years time. 
Darren Lok is a late bloomer in the context of the sport but at 26 years of age, the forward looks like he maybe finally coming into his own at this level. Given his first international cap towards the end of 2016, the Johor Darul Ta'zim (JDT) player looks likely to be a starter come game time against Hong Kong.
With Hazwan Bakri withdrawing from the squad due to injury, a path has opened up for Darren with the only other competitor for the striker's role being Shahrel Fikri. However Darren himself is not taking anything for granted, especially when he hasn't been told specifically by Eduardo Vingada that he will start.
"Not yet, it's only our first session before we leave for Hong Kong tonight [Thursday], there's no indication yet," said Darren to Goal after the national team's last training session before flying out on Wednesday late evening.
Of late, even at club level, Darren seemed to have moved up on the striker's hierarchy. Fans of JDT would agree that based on current form, had Hazwan been available, Darren would still have been the better man for the job at this point in time. 
"Obviously the more and more you play, the better you get. Luckily I've gone back to JDT and played a lot more. I definitely feel sharper and that's good for me," added Darren.
In the home tie of the match against Hong Kong, Darren was also the one selected to play from the start and despite the 1-1 result, he felt that the result did not do Malaysia justice. 
"Hong Kong with all their naturalised player, they do have a physical edge against us. But at times against them at home, I thought we played some good football. And going forward, some of our moves were good."
"We just need to cut out individual errors and try to keep a clean sheet, I always thought that we were going to score. I know they missed their penalty in the last minute, I thought the draw was a bit of an unfair result," remarked Darren on the previous match.
Malaysia have thus far scored a goal a game in this group stage and will be expected to at least continue that trend, if not better it, at the end of the 90 minutes on Tuesday. Should the Malayan Tigers be able to keep that run going, then Darren will surely have a pivotal role to play in that.