Malaysia Cup
Malaysia Cup preview: Group of champions in C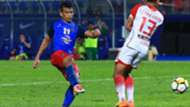 Johor Darul Ta'zim
2018 League finish: 1st in Super League
2017 Malaysia Cup: Champions
Best Malaysia Cup achievement: Champions (2017)
2018 League finish: 6th in Super League
2017 Malaysia Cup: Runners-up
Best Malaysia Cup achievement: Champions (1990, 1993, 2007, 2008, 2016)
Kelantan
2018 League finish: 11th in Super League
2017 Malaysia Cup: Group stage
Best Malaysia Cup achievement: Champions (2010, 2012)
MIFA
2018 League finish: 3rd in Premier League
2017 Malaysia Cup: Did not qualify
Best Malaysia Cup achievement: First appearance
Reigning Super League champions JDT will be the ones to beat in Group C despite them losing a whole host of players to the Asian Games for the first few weeks of the Malaysia Cup competition. That despite being in the same group as two other former champions in Kedah and Kelantan.
The Malaysia Cup may not be top on the list of priority for The Southern Tigers but as all have seen last season, when it comes to it, their quality is undeniable. In Farizal Marlias, Marcos Antonio, Natxo Insa, Fernando Elizari and Fernando Marquez; there are still great strengths in the JDT side that could see them one of the top two spots.
Nidzam Adzha will be looking to take his team to the final again and coincidentally, they are in the same group as their final opponent last season. Kedah have been an inconsistent side in the league this season and will be without Baddrol Bakhtiar, Rizal Ghazali and Akhyar Rashid for the opening few matches.
The form of Liridon Krasniqi also leaves much to be desired. The Kosovan has been a star for The Red Eagles for a few seasons now but injuries have prevented him from reaching the same heights.
Kelantan only just about got in the competition by virtue of being the lowest ranked team from the Super League to qualify. The coaching merry-go-round has not make it easier for the team to gel but Yusri Che Lah is bent on continuing the structure set by his predecessor. 
Young players will once again be the forefront of The Red Warriors and while their inexperience proved telling in a league campaign, things may be slightly different in a cup competition. More than most, this Malaysia Cup campaign may just tell Yusri and the Kelantan management who they need to keep ahead of a season in the season tier.
When Kelantan goes to the Premier League in 2019, MIFA will be one of the teams they will be facing and K. Devan's side have shown that they will be no pushovers. MIFA finished third in the Premier League to hit their target for the season of reaching the Malaysia Cup.
With the pressure off, MIFA led by well-traveled S. Subramaniam may just be able to spring a surprise or two in the competition, although they are not expected to make the knockout stage.