Maji Maji
Kondo: Maji Maji have no time to rest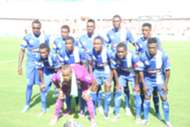 Maji Maji head coach Habib Kondo has decided not to give a rest to his players during the international break, a move aimed at getting more training sessions prior to their relegation battle this season. 
The Ruvuma based side currently sit bottom of the table with 16 points after 22 games and they have only eight matches left to salvage their season and avoid the drop.
Speaking to Goal, Kondo said that it is important to give the players some rest but he decided not to do that at this time because the team need to maintain energy in order to save their season.
"Actually, they do need some rest but due to our current position we will not be doing that, we will train hard during this time in order to try save our season," said Kondo.  
After the international break, Maji Maji will travel to Shinyanga to play against fellow strugglers Mwadui FC on April 6.