Transfers
Lebogang Manyama waiting on Konyaspor to decide his future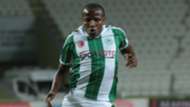 The future of Bafana Bafana international Lebogang Manyama looks to be in doubt, with the player waiting on the club to give him an indication about his future.
The 27-year-old moved to Turkish side Konyaspor on the back of a fruitful campaign where he not only secured the Golden Boot award, scoring 13 goals in the 2016/17 season, but was also named Premier Soccer League (PSL) Footballer of the Season, prior to his departure.
But despite the great burden of expectations that had been placed on Manyama's shoulders, he is yet to live up to expectations. In his debut season abroad, Manyama made just seven appearances, six being off the bench.
This has led the former Cape Town City talisman to find himself in a precarious situation, with speculation rife regarding a possible return to the PSL during the off-season.
Nonetheless, according to the players agent Maimane Phiri the ball is firmly in the Turkish side's court regarding whether or not Manyama will stay at the club.
Manyama has previously been urged to bide his time and continue to work hard by none other than teammate and Cameroon legend Samuel Eto'o.
"He is waiting for a letter from the Konyaspor management informing him what he should do. If they need him back they will send him flight tickets to return to Turkey for pre-season with the club," Phiri revealed in an interview with SunSport.
However, Manyama''s agent still remains optimistic of a potential stay for his client who still has two years remaining on his current deal.
"The new coach hasn't had enough time to have a look at all his players which means Lebo will be given a fair chance to prove his worth. I am not worried about his future because he is talented and can find another club if things don't work out there," he concluded.