PSL
Komphela admits Cape Town City defeat could haunt Kaizer Chiefs title quest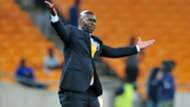 Kaizer Chiefs coach Steve Komphela admits the defeat to Cape Town City will come back and haunt them in the push for the title.
"This is one match where you'll say 'these three points would have counted', but again we can't do anything about it. Let it go and move on. Look at the next match," Komphela said post-match.
The defeat is the Amakhosi's second in the matter of days afer going out 5-3 on penalties to SuperSport United in the Nedbank Cup quarterfinals on Saturday.
In relation to their latest match, Komphela believes they should have won the match after squandering numerous chances.
"Should we have won the match? I think so. There was a stage where there was chance after chance, after chance, even Eric (Tinkler) says he was telling his bench, these guys are going to score," Komphela said.
The club to date has dropped too many points due to draws. To be exact they have accumulated 9 draws in the league.
"You'll look back and say goodness me, there's many of them (games they will look back on and regret). I don't know how many draws we've played even out of those there are matches we should have won," Komphela said.
"(We got a) Penalty five minutes to go and you don't take it and lose. There's a match where we give away silly goals like today. We don't concede three goals in a match, it's completely uncharacteristic but it happens," Komphela added.