WTF
'Kim Jong-Un is a big fan of Serie A' - Italian senator reveals North Korean leader's love of Italian football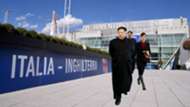 Italian senator Antonio Razzi has claimed that North Korean supreme leader Kim Jong-Un is an avid follower of Serie A thanks to Kwang-Song Han's impact in Italy.
The 18-year-old forward became the first North Korean player to score in Serie A when he netted for Cagliari against Palermo in early April.
Barton hit with 18-month football ban
Razzi revealed that not only does Korea's leader follow the exploits of his country's young striker, but keeps an eye on the Italian league as a whole. In fact, Razzi believes that Serie A champions Juventus are so popular in North Korea that they would sell out the country's biggest stadium.
"Does he follow Italian football? Of course, he knows all about Series A and NBA basketball," Razzi told Gazetta dello Sport. 
"If Juventus were playing in Pyongyang Stadium, which is huge, it would fill up."
Following Razzi's return from the East Asian country, he plans to meet with Cagliari's young North Korean and pass on his regards from the teenager's home country.
"What will I say to Han on Sunday?" Razzi replied. 
"I'll give him compliments, he is considered a talent at the level of those in Europe."