Simba
Kazimoto to extend his stay at Simba beyond this season?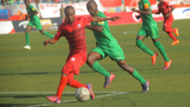 Mwinyi Kazimoto could yet extend his playing career with Simba telling Goal he will make a decision on his future at the end of the season.
The 34-year-old former Tanzania National Football Team, insisted his only focus right now is helping Simba clinch the title this season.
Kazimoto who entered his final month of his current deal is not ruling out a longer stay with the Wekundu wa Msimbazi club who are sitting first in the Premier League table with five games to go.
Asked about his plan beyond this season, Kazimoto replied that he has the appetite and hunger to continue.
"My aim at the start of the season was to help the team get the title and now I think we are going to achieve that so I will discuss my future at the end of the season," said Kazimoto.