PSL
Jonevret expected more from Orlando Pirates against Highlands Park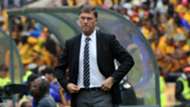 Orlando Pirates coach Kjell Jonevret was left disappointed with their result against the Lions of the North as it somehow derialed their top eight chances this season.
"It was a disappointing first half for us. I was not happy about it, but it was a better second half. I had expected a little bit more. I hoped for a little bit more," Jonevret said post-match.
The draw leaves them in ninth place, one point behind Polokwane City, who are eighth place.
As for Highlands Park, they temporarily moved off the bottom of the table to 15th, but they are still in danger of facing the axe.
They made Bucs sweat for the point, but had moments where they could have nicked the winner as Jonevret admits they came with a good game-plan and played very well throughout the game.
"I also have to say that I think they played good [football]. We were a bit unlucky a few times not to concede, even if we were also close to scoring," Jonevret said.
"But 0-0 or should I say it was a positive to have a clean-sheet again. If I should find something positive instead of the negatives," Jonevret said.
The Sea Robbers went into the game on the back of two successive wins in the league and cup over Maritzburg United and Free State Stars respectively.
"It's been a good week for us, we won two games, but we had hoped for a little bit more today definitely. But that's how it is. As we said before the game, we expected a tough one and we got a tough one," Jonevret said.