Transfers
John Comits: Cape Town City will not make too many changes in the offseason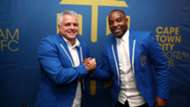 Cape Town City boss John Comitis believes that Benni McCarthy has done well in his first season in charge and will continue to improve as a coach.
The Citizens have experienced a campaign filled with many ups and downs, but following their recent victory over Orlando Pirates, things are beginning to look up once again for the Mother City based outfit.
City have just one game remaining in the league against AmaZulu in Durban, before bringing down the curtain on their second season since their inception. City currently occupy fifth position on the table, and although they will not be replicating their third-place finish of last season, their chairman is still happy with the outcome.  
"If I look at the stats, and see that we are probably likely to finish in fifth position on the log, then I have to say that it is has been a successful season," Comitis was quoted as saying by Cape Argus.
"If you look at the fact that we were unsettled at the start of the season... and yet we still are looking at finishing so high up on the table, together with the good Cup runs we had, then I have to say that it has been a great season," he added.
However, Comitis admits that worrying for them has been their lack of goals this season. But the former Ajax Cape Town boss has revealed that there will not be too many changes to personnel in the offseason.
"If there is an area that has been concerning, then it's the fact that we have not been able to convert all the good football we played into goals," Comitis admitted.
"But I have to say that the upswing in the last few weeks has been good. So, all in all, it's a good signal that we will be ready to continue to make more positive steps as a club," he added.
"I don't foresee many changes because I believe this current squad is developing nicely, so I expect that two or three new additions will be all we need for next season," he explained.
Meanwhile, Comitis has heaped praise on McCarthy, suggesting that he has all the makings of a good coach. 
"The main thing about Benni is his willingness to learn," said Comitis.
 "He has his personality, and he has his opinion, but, importantly, he is open-minded. He is prepared to listen and learn from his mistakes - and, because of this, I have no doubt that he will continue to progress as a coach."