Chelsea
It's not easy to compete with Man City and United in the transfer market, admits Conte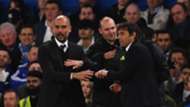 Chelsea don't find it easy to compete with the likes of Manchester City and United for top players in the transfer market, Antonio Conte hinted Friday. 
The Blues broke their transfer record this season by bringing in Alvaro Morata for £58 million, a move that could rise to £70m with the add-on involved in the deal, but they lag behind the two Manchester sides in terms of net spending during the transfer windows. 
Chelsea made a number of high-profile sales to fund spending and are now being linked with the likes of Stoke City's Peter Crouch and West Ham's Andy Carroll. But Conte admits that it might be tricky for the Premier League champions to keep up with some clubs on transfers. 
"This question is one for the club," Conte said during a press conference at Cobham Training Centre. "For sure, now there are strong, big realities and it's not simple to fight them. But I don't know. I'm not in condition to follow up with that.
"In this moment, about Ross Barkley, I think the club took a good opportunity to buy an important player, an important English player, and not spend a lot of money. Ross' evaluation is more than £15m."
Chelsea go into the Brighton game on Saturday with a 15-point gap between them and Man City, who sit in first place in the Premier League table. 
The Blues have slipped to fourth after playing to a 0-0 draw with Leicester last weekend, while Liverpool beat Man City. Conte thinks that the Premier League is the toughest league in world football, and understands how difficult it is to win the trophy.
"In every sport you have to fight if you want to reach great achievements," Conte said. "I think in England, it's very difficult to win the title, more than in other country. Because you start the season with six top teams trying to win the title.
"This is the only country where you can find this type of situation. At the same time, it's very difficult to fight and find a place in the top four. Last season, Manchester United and Arsenal stayed out.
"Two seasons ago, Liverpool were out and Chelsea finished 10th. They were out. But we must be ready, we must be ready to fight for a place in the top four. It won't be easy because every team wants to reach this target.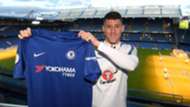 "This target is very prestigious for every team because this competition, [along with] the Champions League, is the biggest in the world for clubs. We must be optimistic. There are four months to play. Good targets.
"We are in the semi-final of the Carabao Cup with the possibility of reaching the final, the fourth round of the FA Cup, the Champions League, and we're fighting for a Champions League place in the league. We must be optimistic and continue to work. Our work must give us the right optimism."
"At this moment, Manchester City are one of those in the Champions League places. I don't know if they'll win the (Premier League) or not, but they are 12 points from the second and 20 from Arsenal."
Chelsea don't go into the game against Brighton in great shape having played 120 minutes in the FA Cup third-round replay on Wednesday against Norwich. 
Conte saw Morata and Pedro both get sent off for two yellow cards and they will miss the game, while the manager confirmed Gary Cahill and Cesc Fabregas are out with injuries. Conte admits he's unhappy that Pedro dived but says that he knows he has made a mistake. 
"I think, during the game, the player can be tired, a bit tired, but Pedro's reaction was to stand up quickly," Conte said. "I think the player understood, at that moment, the mistake and wanted to stand up and admit it was a mistake, 'I was a bit tired'.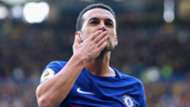 "But, sometimes we can make mistakes. The most important thing is to try and recognise the mistake and try and avoid repeating them next time. If you see, he didn't ask for a penalty."