World Cup
'It's never chance' - Rashford willing to take England penalty in World Cup shootout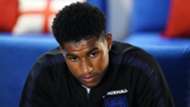 Marcus Rashford insists he will take a penalty if England face a shootout at the World Cup.
The Three Lions meet Colombia in the last 16 on Tuesday, having seen a number of major teams already crash out of the tournament, including Spain, Germany and Argentina.
La Roja were beaten by Russia on penalties on Sunday, while Croatia also eliminated Denmark in a shootout.
England and Colombia will be aware that spot-kicks are a very realistic possibility for them to face, and Manchester United striker Rashford maintains he will definitely step up, despite having never taken a senior penalty.
"I think he (manager Gareth Southgate) knows the players who are confident in those circumstances. I'd be willing to step forward," he said.
"Not everybody here is a penalty taker for their club. It's more if you feel comfortable taking one, which I do, that's the way you go about it.
"If you don't feel comfortable you have to be honest with yourself. That gives the team the best chance."
England have not won a penalty shootout since 1996, when they defeated Spain in the European Championship.
Rashford, though, says that he and his team-mates have been practising, with previous England teams crashing out of the World Cup on penalties in 1998  and 2006.
"Colombia might not be talking about them but they're definitely practising," he added. "I think it's stupid not to practise, especially at this stage of the tournament.
"It's not chance. It's never chance. It's a skill and every skill takes time to learn it and to perfect it. It's a simple skill but it's about being able to perform it with pressure and everything around it.
"I know goalkeepers practise them a lot. They practise their skills to become perfect at it. It's definitely not chance if you might or might not score."