Tottenham Hotspur
'It's getting boring!' - Dier lauds record-setting Kane after late Tottenham winner at Crystal Palace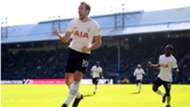 Eric Dier joked that Harry Kane's record-setting goals are "getting boring" after the Tottenham striker snatched an 88th-minute winner against Crystal Palace.
Kane made amends for squandering a golden opportunity early in the second half with a superb header late on at Selhurst Park, with the 1-0 victory taking Tottenham into the top four in the Premier League.
It also marked the England forward's 150th goal in club football, and Dier was full of praise for his record-breaking team-mate.
"It's getting boring isn't it, he just keeps getting the records. But he's a class act, he just keeps getting the goals at vital moments," Kane told BBC Sport.
"We like to leave it late here every year, we're just really happy to get the goal. I think we thoroughly deserved it, we had so many chances."
Tottenham dominated throughout on Sunday, and only the fine form of Wayne Hennessey and unusual profligacy in front of goal from Kane prevented Mauricio Pochettino's side going ahead much earlier.
Kane, as ever, came up with the goods in the end, though, but the 24-year-old claimed he was unaware of the milestone his goal marked.
"I didn't even realise to be honest. I just want to keep scoring and help the team win games," he said.
"We left that very late. I thought it wasn't going to be our day, because we had a few chances, especially me, and Serge Aurier had one at the end too, but we kept going until the end and eventually got our rewards.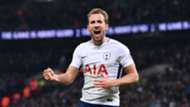 "We had a tough patch, with a few tough games recently, now we have to keep that momentum going."
While Tottenham's performance certainly warranted a goal, it was harsh on Palace, who put in a determine backs-to-the-wall display.
Already with a lengthy injury list to contend with, Roy Hodgson's woes were compounded late on when defender James Tomkins hobbled off - Kane delivering the final blow moments later, and Patrick van Aanholt could not hide his disappointment.
"We were right in the game until the end, so we're very disappointed, there's not a lot we can say," the former Sunderland defender said.
"Defensively we played very well as a team, but now we just have to look ahead to the next game."